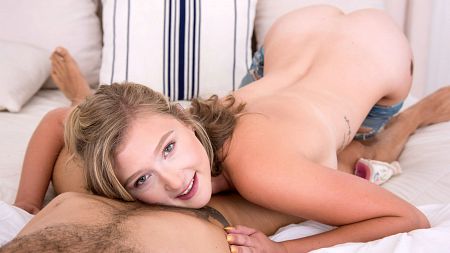 April's guy is setting up a camera to record them ramming.
"Please don't show anyone. I'll be so embarrassed," she says.
"It's just for us," he says. Well, that's not exactly true. But April would be pleased to know how much men enjoy her video. She has nothing to be embarrassed about. She's a fresh, tight-bodied teen, and watching her pound is a delight.
The dude starts rubbing her pussy and fingering her ass–a preview of objects to come.
"Your penis is so big my mouth can't fit around it," April says as she cumswallow his dick. Her pussy certainly fits around it, and so does her anus.
April may only be 18, but she takes it up the butt like a pro. After stuffing her slit and her backdoor pucker, this man unloads his jism all over her face. That's the best kind of April shower.